How to Avoid Having a Bad Experience with a Windows Company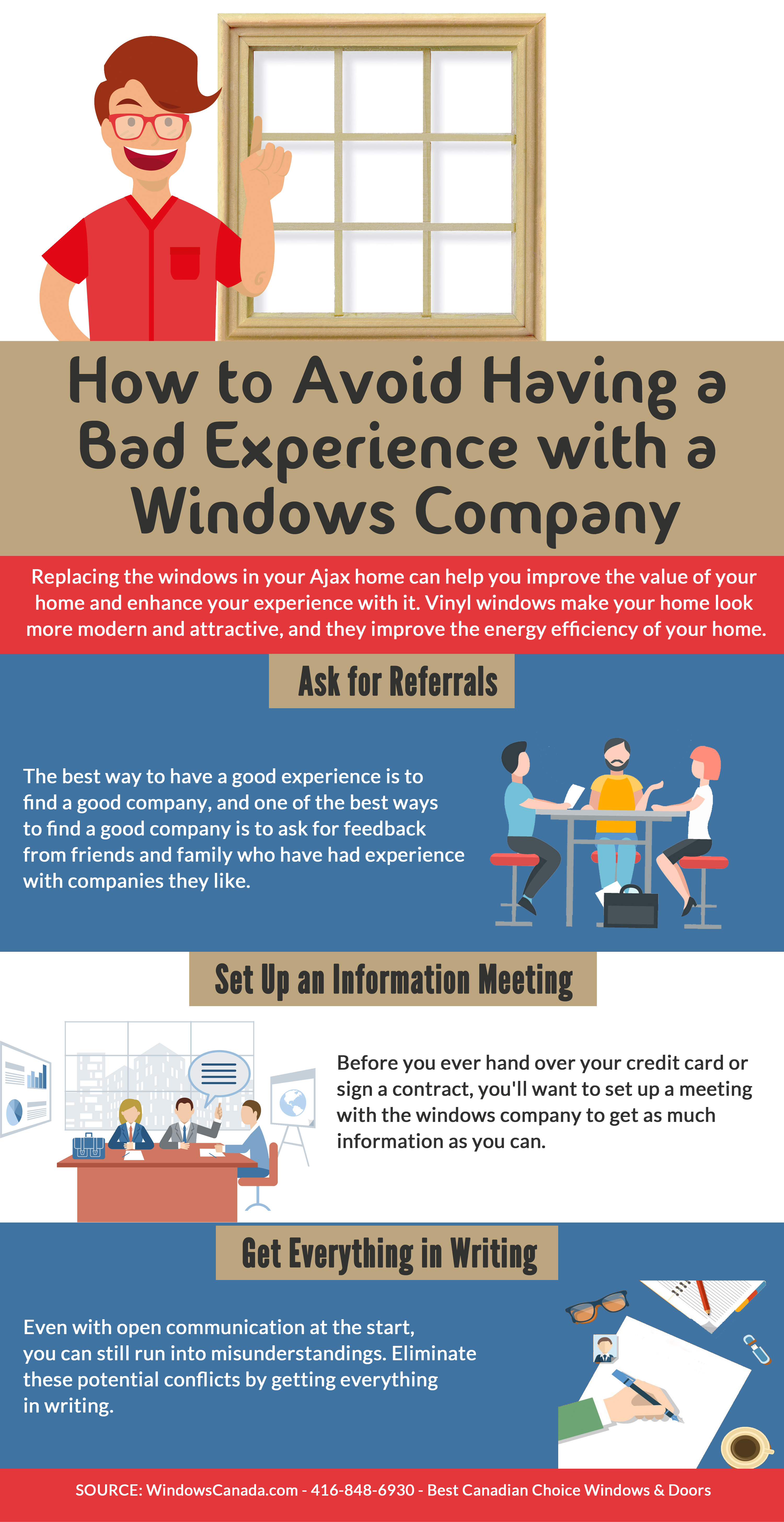 Embed Our Infographic Into Your Website!
Read more
Replacing the windows in your Ajax home can help you improve the value of your home and enhance your experience with it. Vinyl windows make your home look more modern and attractive, and they improve the energy efficiency of your home. You'll save thousands of dollars over the life of the windows on energy costs alone, and then you'll save more on maintenance as vinyl windows do not require much upkeep.
When you start shopping for vinyl windows, it's important that you choose the right windows company to work with. Otherwise, you'll spend more money than you have to and will have a bad experience that will negate the benefits you get from the windows.
Here are a few things you can do to avoid having a bad experience with a vinyl windows company:
Ask for Referrals
The best way to have a good experience is to find a good company, and one of the best ways to find a good company is to ask for feedback from friends and family who have had experience with companies they like. Ask everyone you know for referrals, and then ask for specific feedback about what they liked about the company. Even though someone you know may have liked the company, your personal styles might not mesh. You want to make sure the company will be a good fit for you, too.
Set Up an Information Meeting
Before you ever hand over your credit card or sign a contract, you'll want to set up a meeting with the windows company to get as much information as you can. Ask a lot of questions about the company's policies, such as any warranties that are offered, financing terms, installation terms and more.
Many disputes are caused by a disconnect between what the customer expects and what the company offers. Avoid these disputes by being clear right from the start.
Get Everything in Writing
Even with open communication at the start, you can still run into misunderstandings. Eliminate these potential conflicts by getting everything in writing. Have a contract that you can refer to that outlines everything you will get, what you will pay, what warranties are offered and so on.
Use these tips to have a great experience while you upgrade your home with high-quality vinyl windows. Then call this windows company in Ajax for great deals and great customer service