How to Measure Your Windows for Replacement
Investing in a Markham windows replacement can improve the value of your home - especially if you choose vinyl windows. High-quality vinyl windows will increase the energy efficiency of your home, and they are resistant to many of the damages that other windows face, making them low-maintenance and long-lasting.
If you don't already have vinyl windows, now is the time to consider a Markham window replacement for your home. Before you can start shopping for Markham windows, you will need to measure your old windows to find out exactly what size you will need. Here's how to measure your old windows for replacement: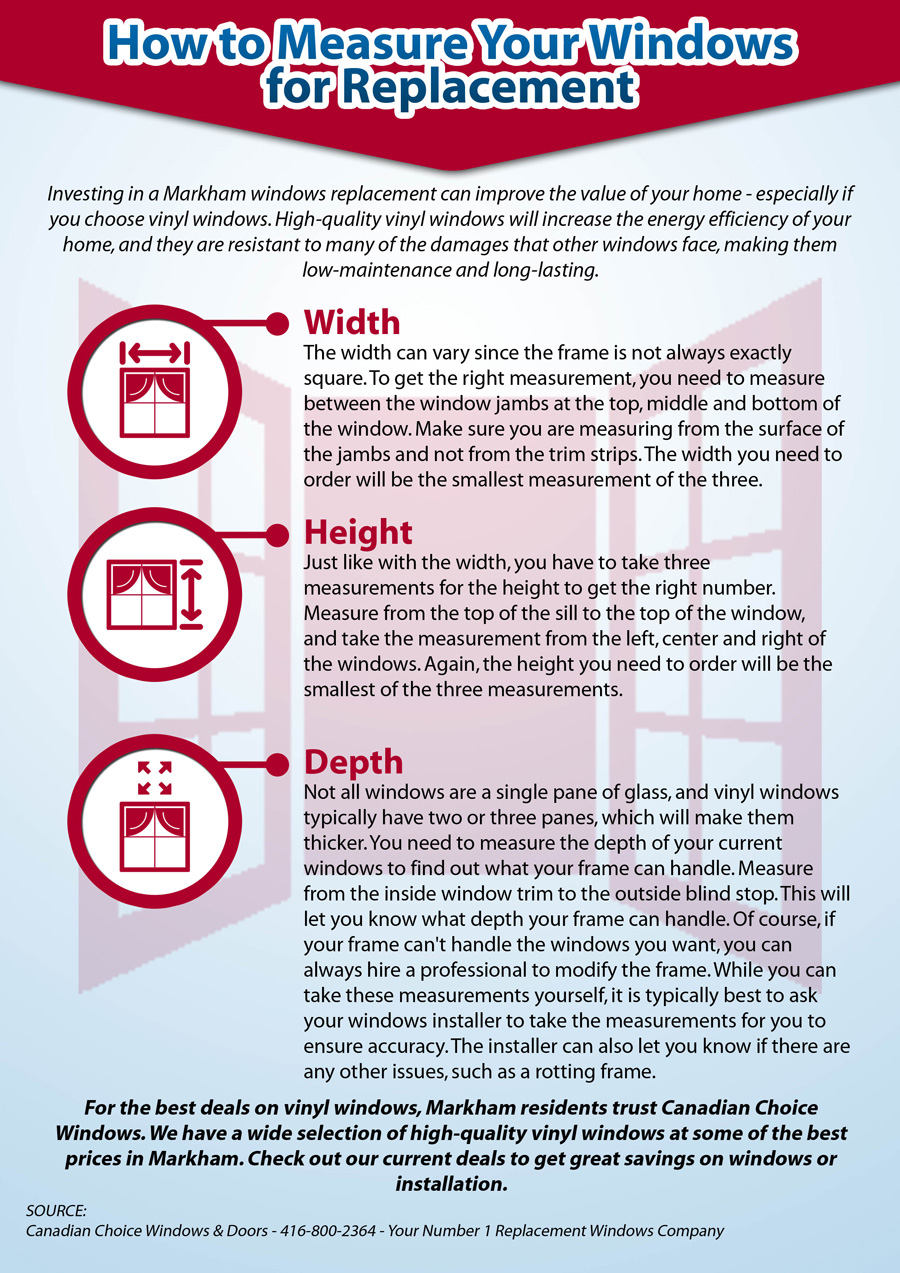 Embed Our Infographic Into Your Website!
Read more
Width
The width can vary since the frame is not always exactly square. To get the right measurement, you need to measure between the window jambs at the top, middle and bottom of the window. Make sure you are measuring from the surface of the jambs and not from the trim strips.
The width you need to order will be the smallest measurement of the three.
Height
Just like with the width, you have to take three measurements for the height to get the right number. Measure from the top of the sill to the top of the window, and take the measurement from the left, center and right of the windows.
Again, the height you need to order will be the smallest of the three measurements.
Depth
Not all windows are a single pane of glass, and vinyl windows typically have two or three panes, which will make them thicker. You need to measure the depth of your current windows to find out what your frame can handle.
Measure from the inside window trim to the outside blind stop. This will let you know what depth your frame can handle.
Of course, if your frame can't handle the windows you want, you can always hire a professional to modify the frame. While you can take these measurements yourself, it is typically best to ask your windows installer to take the measurements for you to ensure accuracy. The installer can also let you know if there are any other issues, such as a rotting frame.
For the best deals on vinyl windows, Markham residents trust Canadian Choice Windows. We have a wide selection of high-quality vinyl windows at some of the best prices in Markham. Check out our current deals to get great savings on windows or installation.