How to Make this Ottawa Winter More Bearable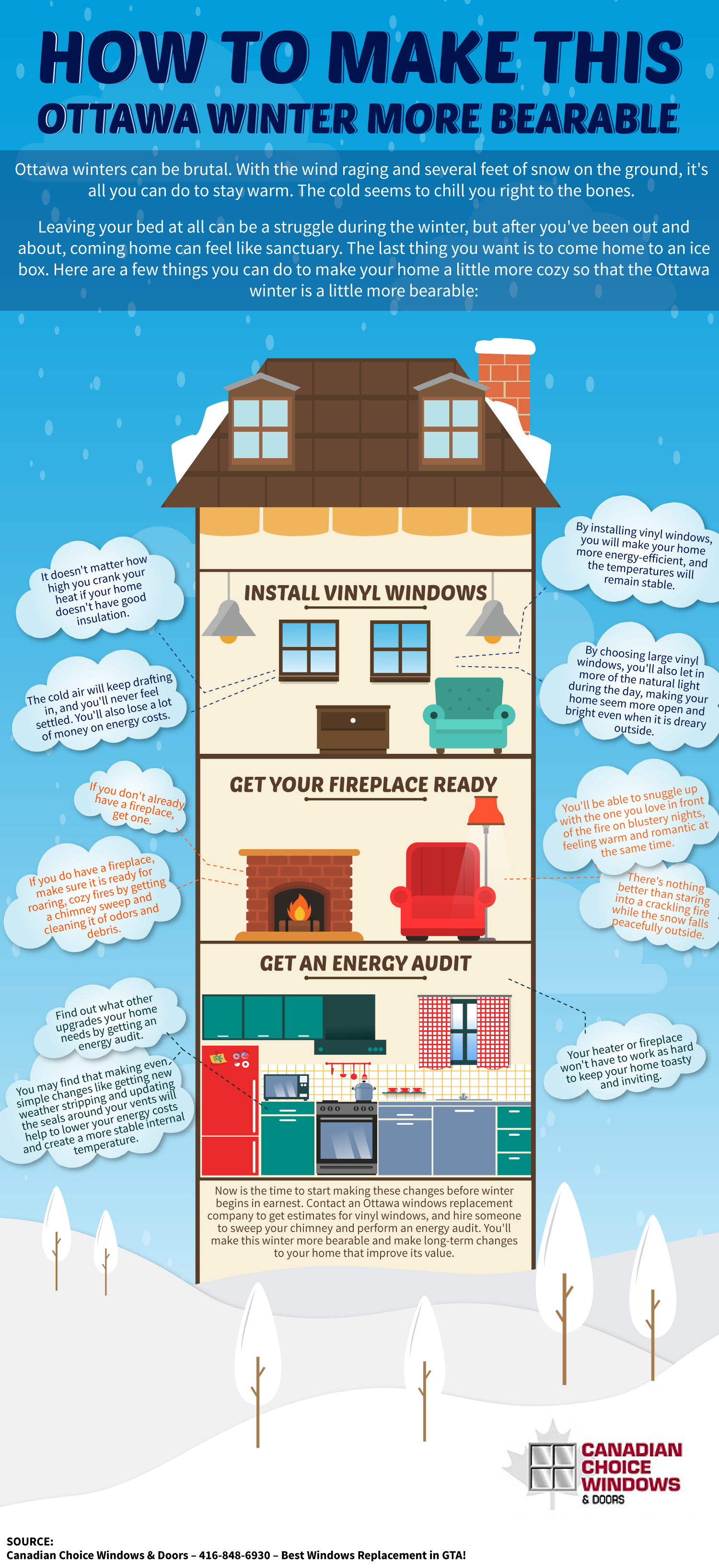 Embed Our Infographic Into Your Website!
Read more
Ottawa winters can be brutal. With the wind raging and several feet of snow on the ground, it's all you can do to stay warm. The cold seems to chill you right to the bones.
Leaving your bed at all can be a struggle during the winter, but after you've been out and about, coming home can feel like sanctuary. The last thing you want is to come home to an ice box. Here are a few things you can do to make your home a little more cozy so that the Ottawa winter is a little more bearable:
Install Vinyl Windows
It doesn't matter how high you crank your heat if your home doesn't have good insulation. The cold air will keep drafting in, and you'll never feel settled. You'll also lose a lot of money on energy costs.
By installing vinyl windows, you will make your home more energy-efficient, and the temperatures will remain stable. By choosing large vinyl windows, you'll also let in more of the natural light during the day, making your home seem more open and bright even when it is dreary outside.
Get Your Fireplace Ready
If you don't already have a fireplace, get one. If you do have a fireplace, make sure it is ready for roaring, cozy fires by getting a chimney sweep and cleaning it of odors and debris. You'll be able to snuggle up with the one you love in front of the fire on blustery nights, feeling warm and romantic at the same time. There's nothing better than staring into a crackling fire while the snow falls peacefully outside.
Get an Energy Audi
Find out what other upgrades your home needs by getting an energy audit. You may find that making even simple changes like getting new weather stripping and updating the seals around your vents will help to lower your energy costs and create a more stable internal temperature. Your heater or fireplace won't have to work as hard to keep your home toasty and inviting.
Now is the time to start making these changes before winter begins in earnest. Contact an Ottawa windows replacement company to get estimates for vinyl windows, and hire someone to sweep your chimney and perform an energy audit. You'll make this winter more bearable and make long-term changes to your home that improve its value.