An Inside Look at Edmonton's Architectural Styles & Window Applications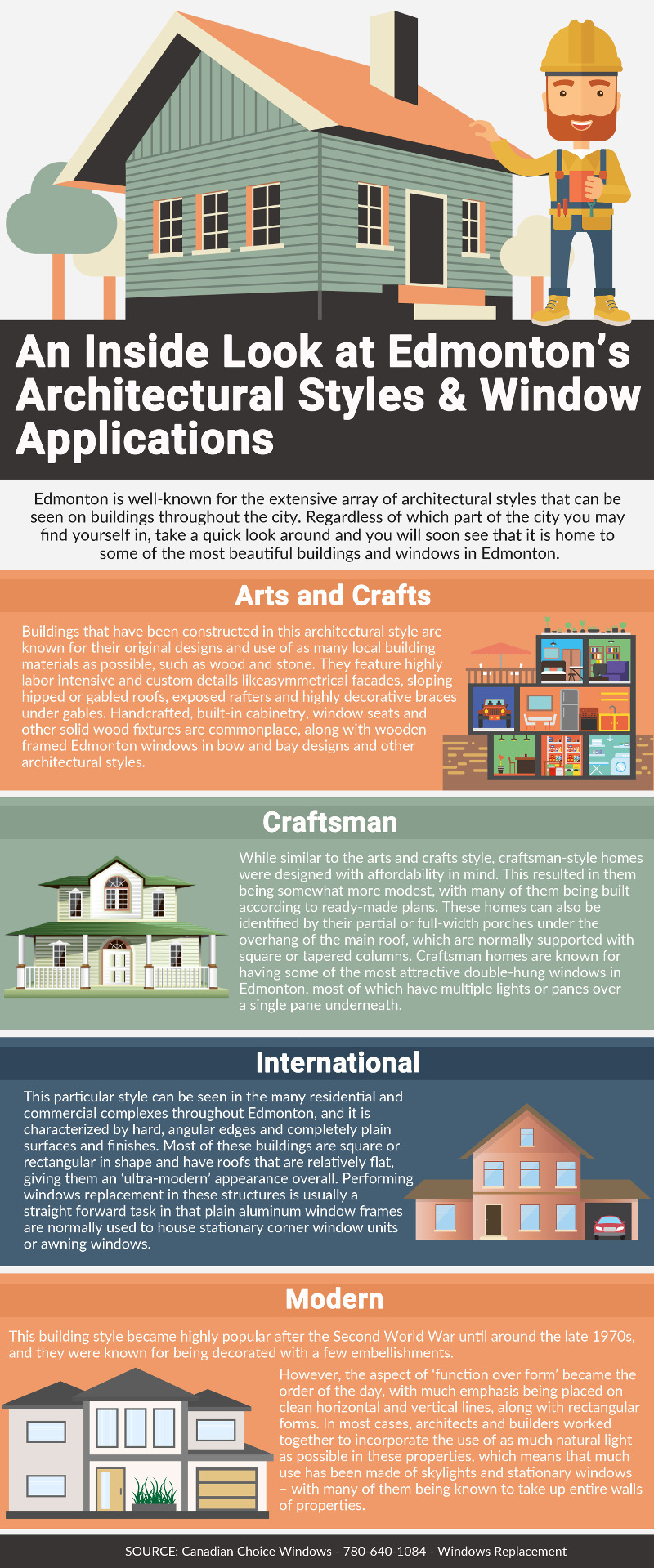 Embed Our Infographic Into Your Website!
Read more
Edmonton is well-known for the extensive array of architectural styles that can be seen on buildings throughout the city. Regardless of which part of the city you may find yourself in, take a quick look around and you will soon see that it is home to some of the most beautiful buildings and windows in Edmonton.
#1 – Arts and Crafts
Buildings that have been constructed in this architectural style are known for their original designs and use of as many local building materials as possible, such as wood and stone. They feature highly labor intensive and custom details like asymmetrical facades, sloping hipped or gabled roofs, exposed rafters and highly decorative braces under gables. Handcrafted, built-in cabinetry, window seats and other solid wood fixtures are commonplace, along with wooden framed Edmonton windows in bow and bay designs and other architectural styles.
#2 – Craftsman
While similar to the arts and crafts style, craftsman-style homes were designed with affordability in mind. This resulted in them being somewhat more modest, with many of them being built according to ready-made plans. These homes can also be identified by their partial or full-width porches under the overhang of the main roof, which are normally supported with square or tapered columns. Craftsman homes are known for having some of the most attractive double-hung windows in Edmonton, most of which have multiple lights or panes over a single pane underneath.
#3 – International
This particular style can be seen in the many residential and commercial complexes throughout Edmonton, and it is characterized by hard, angular edges and completely plain surfaces and finishes. Most of these buildings are square or rectangular in shape and have roofs that are relatively flat, giving them an 'ultra-modern' appearance overall. Performing windows replacement in these structures is usually a straightforward task in that plain aluminum window frames are normally used to house stationary corner window units or awning windows.
#4 – Modern
This building style became highly popular after the Second World War until around the late 1970s, and they were known for being decorated with a few embellishments. However, the aspect of 'function over form' became the order of the day, with much emphasis being placed on clean horizontal and vertical lines, along with rectangular forms. In most cases, architects and builders worked together to incorporate the use of as much natural light as possible in these properties, which means that much use has been made of skylights and stationary windows – with many of them being known to take up entire walls of properties.
Regardless of the style of property you may own, the time will come when you will need to enlist the help of Edmonton windows installation experts such as our team here at Canadian Choice Windows & Doors. All of our team members have an extensive level of experience when it comes to helping you choose the right windows replacement options for your home. Get in touch with us today to see how we can give your home the facelift it deserves.