How to Make Your Home More Eco-Friendly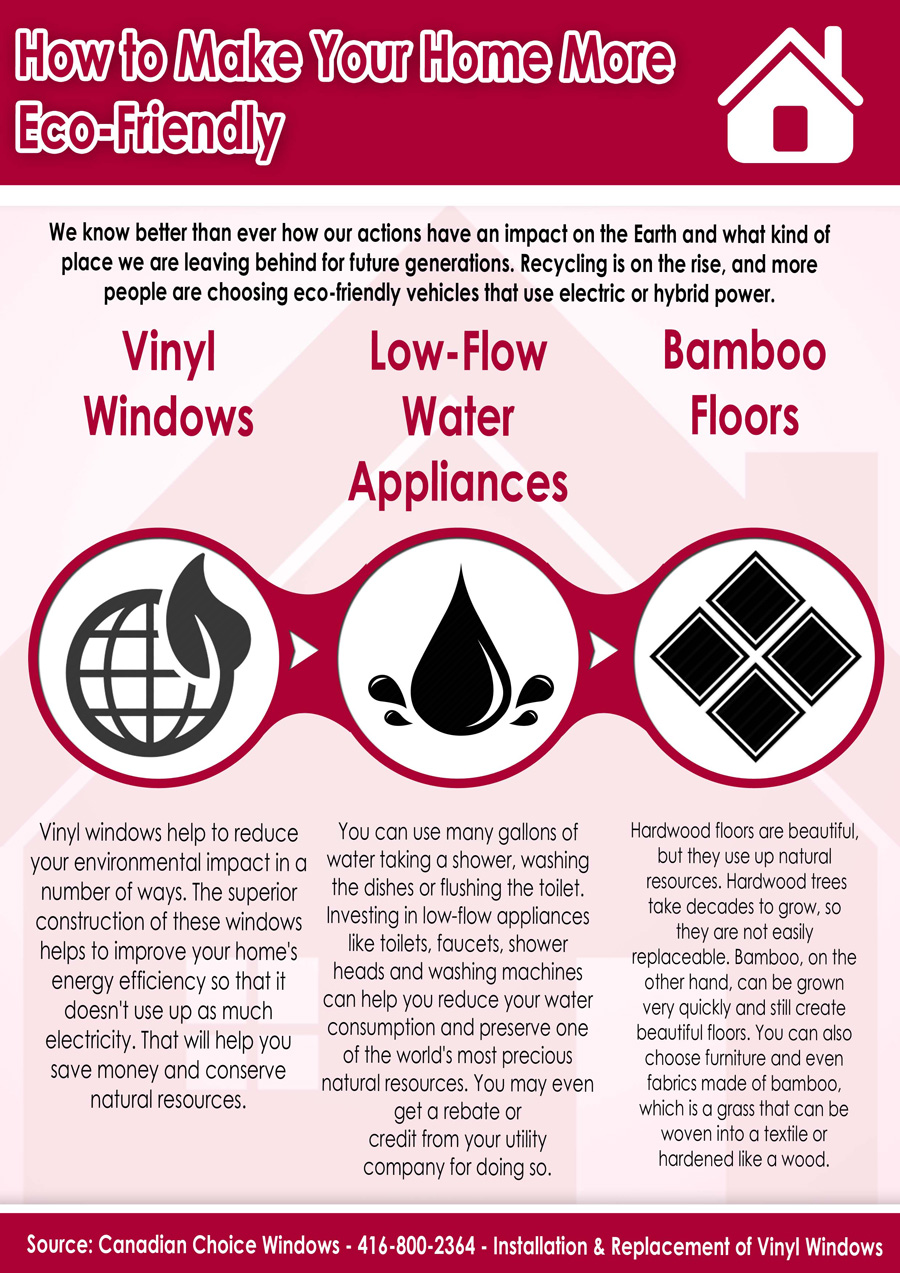 Embed Our Infographic Into Your Website!
Read more
We know better than ever how our actions have an impact on the Earth and what kind of place we are leaving behind for future generations. Recycling is on the rise, and more people are choosing eco-friendly vehicles that use electric or hybrid power.
Your home is one place where you can make the biggest impact on the planet. The choices you make in the building materials, the appliances and more can contribute to the depletion or protection of natural resources and will either increase or decrease greenhouse gas emissions.
Here are a few changes you can make to your Mississauga home to make it more eco-friendly:
Vinyl Windows
Vinyl windows help to reduce your environmental impact in a number of ways. The superior construction of these windows helps to improve your home's energy efficiency so that it doesn't use up as much electricity. That will help you save money and conserve natural resources.
Vinyl windows also do not require a lot of maintenance. You will not have to invest in new materials such as paints and sealers, which use up a lot of natural resources in their construction. Vinyl windows also last longer than other window types, which means you won't have to use up more new resources by replacing your windows frequently.
Low-Flow Water Appliances
You can use many gallons of water taking a shower, washing the dishes or flushing the toilet. Investing in low-flow appliances like toilets, faucets, shower heads and washing machines can help you reduce your water consumption and preserve one of the world's most precious natural resources. You may even get a rebate or credit from your utility company for doing so.
Bamboo Floors
Hardwood floors are beautiful, but they use up natural resources. Hardwood trees take decades to grow, so they are not easily replaceable. Bamboo, on the other hand, can be grown very quickly and still create beautiful floors. You can also choose furniture and even fabrics made of bamboo, which is a grass that can be woven into a textile or hardened like a wood.
The sooner you make changes to your home, the more you will be helping the environment. Now is the time to consider making these and other updates. If you are ready to start making renovations, call window companies in Mississauga to get the best deal on high-quality vinyl windows