How to Choose the Best Windows Company for Replacement Windows
If you want to get the right vinyl windows for your Durham home, you should find a reputable windows company that offers a great selection of quality vinyl windows to choose from. Take a look at our infographic to learn how to find the best windows replacement company for your home upgrading project.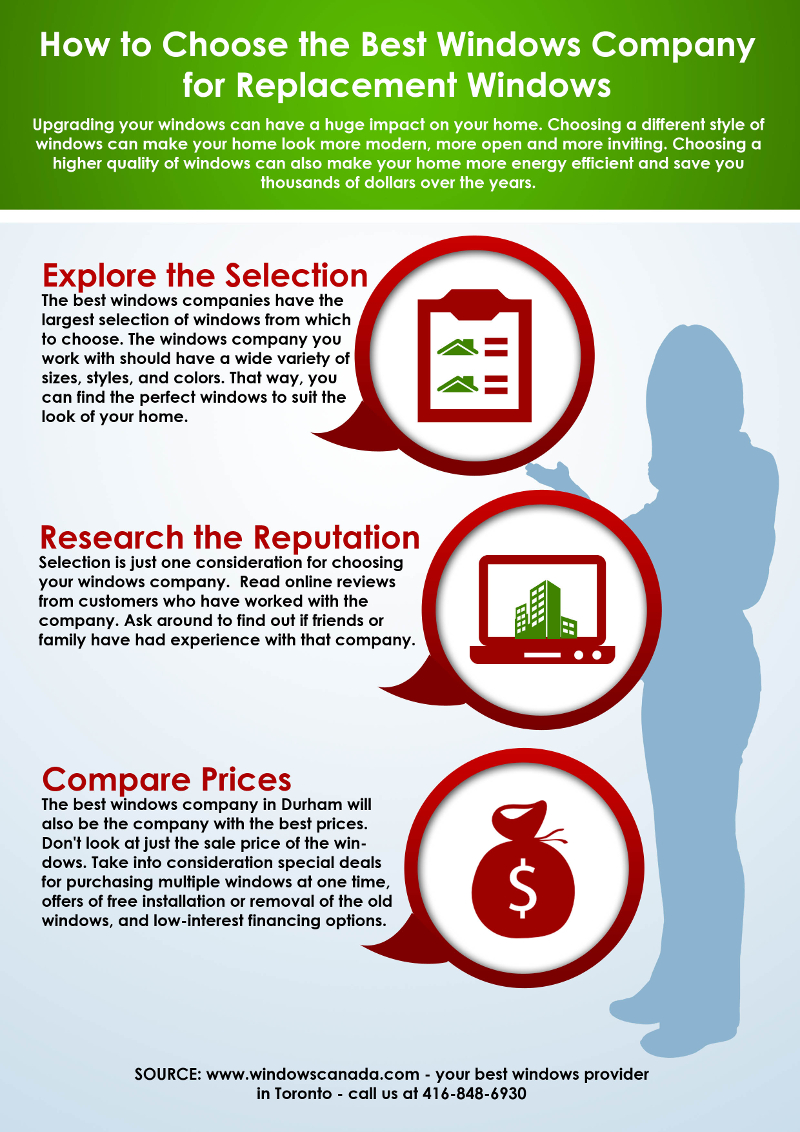 Embed Our Infographic Into Your Website!
Read more
Upgrading your windows can have a huge impact on your home. Choosing a different style of windows can make your home look more modern, more open and more inviting. Choosing a higher quality of windows can also make your home more energy efficient and save you thousands of dollars over the years.
Vinyl windows can help you achieve both goals. Meanwhile, vinyl windows can also lower your maintenance responsibilities and costs.
Finding the best windows company is essential to getting the right vinyl windows to get all the benefits that this investment offers. Here are a few ways to find the best windows company in Durham for your replacement vinyl windows:
Explore the Selection
The best windows companies have the largest selection of windows from which to choose. The windows company you work with should have a wide variety of sizes, styles, and colors. That way, you can find the perfect windows to suit the look of your home. You can create any style you like with the right windows.
Some windows companies also have their own unique designs. You'll be able to create a style for your home unlike anything else in your neighborhood.
Research the Reputation
Selection is just one consideration for choosing your windows company. You'll also want to know about the service that the company offers. You can quickly discover this by researching the reputation of the company.
Read online reviews from customers who have worked with the company. Ask around to find out if friends or family have had experience with that company (or if they know someone who does). Check with consumer reporting agencies like the Better Business Bureau to find out if any customers have filed complaints or actions against the business. You'll want to work with a company that has the best reputation around.
Compare Prices
The best windows company in Durham will also be the company with the best prices. Don't look at just the sale price of the windows. Take into consideration special deals for purchasing multiple windows at one time, offers of free installation or removal of the old windows, and low-interest financing options.
Canadian Choice Windows has the best selection, the best prices and the best reputation of any windows company in Durham. When you are ready to shop for new vinyl windows, call our windows company in Durham.