Make Your Home Cozier this Winter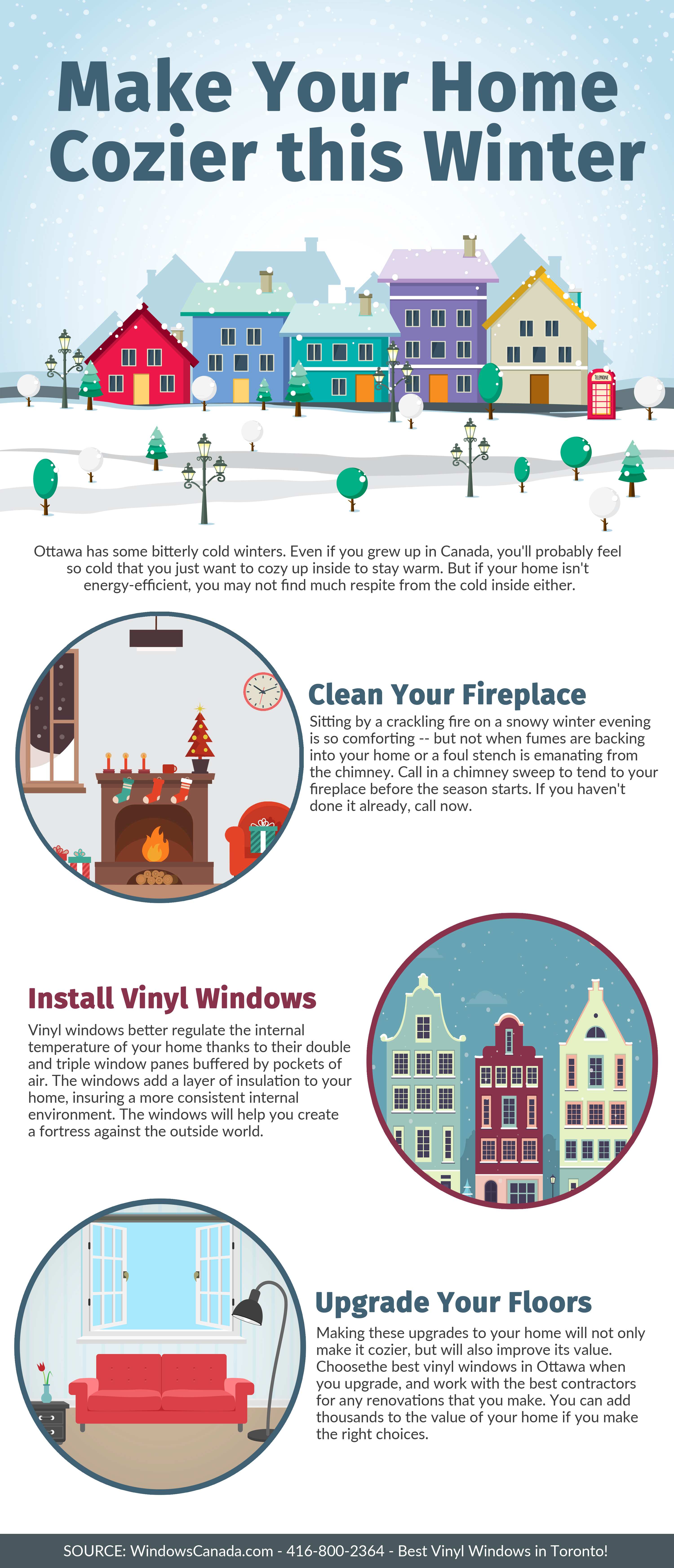 Embed Our Infographic Into Your Website!
Read more
Ottawa has some bitterly cold winters. Even if you grew up in Canada, you'll probably feel so cold that you just want to cozy up inside to stay warm. But if your home isn't energy-efficient, you may not find much respite from the cold inside either.
Here are a few things you can do to make your Ottawa home cozier this winter:
Clean Your Fireplace
Sitting by a crackling fire on a snowy winter evening is so comforting - but not when fumes are backing into your home or a foul stench is emanating from the chimney. Call in a chimney sweep to tend to your fireplace before the season starts. If you haven't done it already, call now.
Of course, if you don't have a fireplace, now is the perfect time to consider the upgrade. A fireplace can also help you save money on heating costs.
Install Vinyl Windows
You can crank up the heat, but your home will still feel cold if you have flimsy, single-pane windows. The hot air will leak right out, and the cold air will seep in.
Vinyl windows better regulate the internal temperature of your home thanks to their double and triple window panes buffered by pockets of air. The windows add a layer of insulation to your home, insuring a more consistent internal environment. The windows will help you create a fortress against the outside world.
Upgrade Your Floors
Stepping onto a heated floor feels like getting a warm hug. Add radiant flooring to your home, and you'll feel cozy all winter long. You won't mind getting out of bed on a cold morning because you'll feel like you're settling into a comfy pair of slippers when you step onto the floor.
Making these upgrades to your home will not only make it cozier, but will also improve its value. Choose the best vinyl windows in Ottawa when you upgrade, and work with the best contractors for any renovations that you make. You can add thousands to the value of your home if you make the right choices.