How to Maintain the Energy Efficiency of Your Vinyl Windows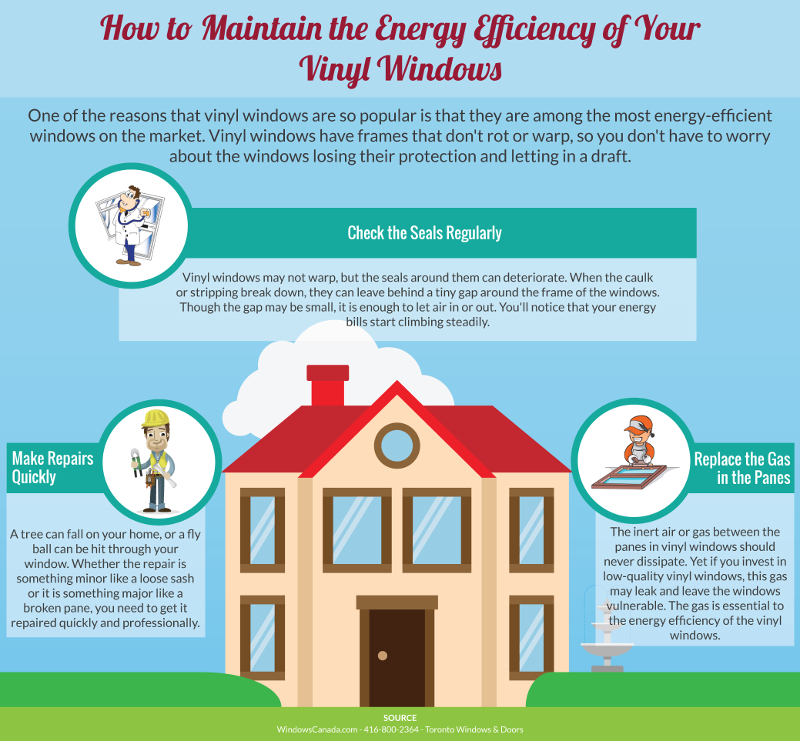 Embed Our Infographic Into Your Website!
Read more
One of the reasons that vinyl windows are so popular is that they are among the most energy-efficient windows on the market. Vinyl windows have frames that don't rot or warp, so you don't have to worry about the windows losing their protection and letting in a draft. In addition, vinyl windows are "insulated" with a pocket of air between the panes of glass, helping to keep your home cooler in the summer and warmer in the winter.
Yet without the right care, even vinyl windows can lose some of their energy efficiency. Here are a few things you can do to maintain the energy efficiency of your Calgary vinyl windows:
Check the Seals Regularly
Vinyl windows may not warp, but the seals around them can deteriorate. When the caulk or stripping break down, they can leave behind a tiny gap around the frame of the windows. Though the gap may be small, it is enough to let air in or out. You'll notice that your energy bills start climbing steadily.
As part of your routine maintenance, make sure you inspect the seals around the windows and make repairs as needed.
Make Repairs Quickly
A tree can fall on your home, or a fly ball can be hit through your window. Whether the repair is something minor like a loose sash or it is something major like a broken pane, you need to get it repaired quickly and professionally. Don't try to make these repairs yourself. Always call in professionals who have the right tools and experience to do the work correctly.
Replace the Gas in the Panes
The inert air or gas between the panes in vinyl windows should never dissipate. Yet if you invest in low-quality vinyl windows, this gas may leak and leave the windows vulnerable. The gas is essential to the energy efficiency of the vinyl windows. Without it, your windows will not provide the protection your home needs, and condensation is likely to form between the panes.
If you notice condensation or higher energy bills, call a professional to make the repairs quickly.
The best way to ensure the energy efficiency of your vinyl windows is to invest in high-quality windows. Choose a Calgary windows company that is known for its high-quality windows and service to protect yourself. You'll get great windows that will provide energy efficiency for a lifetime.