Top 3 Reasons to Upgrade to Vinyl Windows this Summer
The right windows should last you for decades. Since you don't expect to have to replace them for a long time, you likely don't pay much attention to them on a daily basis. They can experience a lot of wear and tear over time, making them less effective at protecting your home.
Now is the time to inspect your windows and determine if it's the right time to upgrade. Here are three reasons why now might be the right time to upgrade to vinyl windows before the summer is in full swing: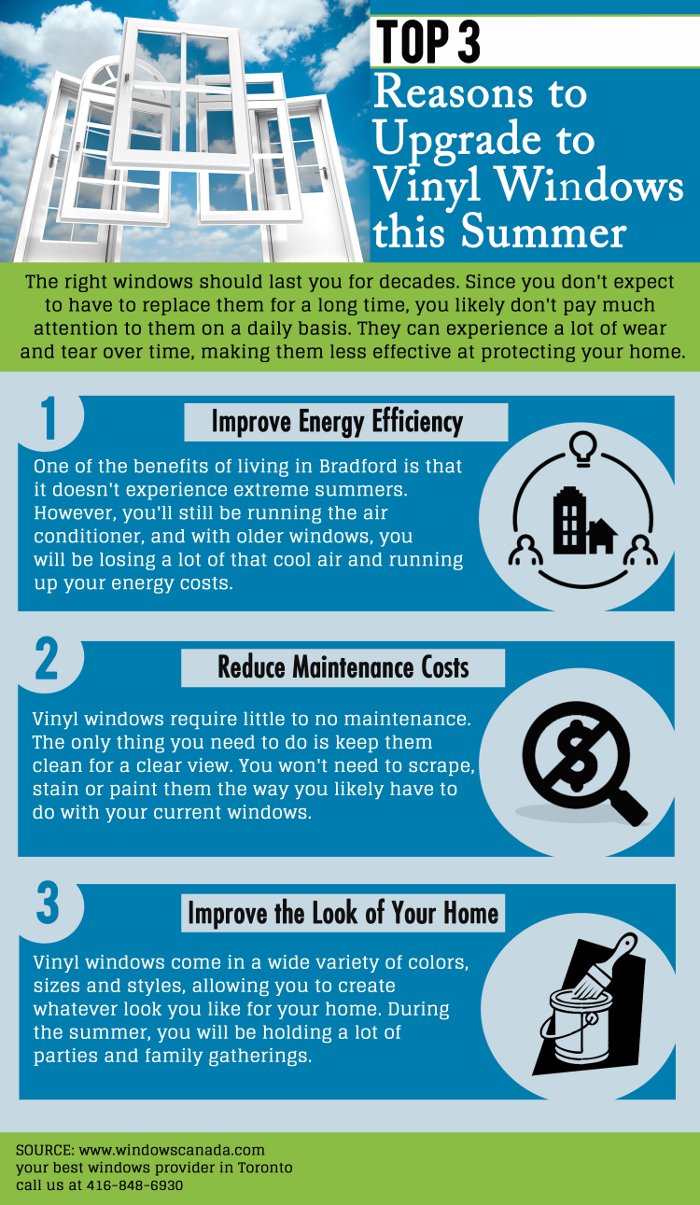 Embed Our Infographic Into Your Website!
Read more
Improve Energy Efficiency
One of the benefits of living in Bradford is that it doesn't experience extreme summers. However, you'll still be running the air conditioner, and with older windows, you will be losing a lot of that cool air and running up your energy costs.
Vinyl windows are among the most energy-efficient windows on the market. They have air-tight frames and double panes of glass that are padded by inert air or gas. Less air passes through the window, making the internal temperature more consistent and putting less strain on your air conditioner. You'll save more in energy costs over the life of the windows than you spent on the windows themselves.
Reduce Maintenance Costs
Vinyl windows require little to no maintenance. The only thing you need to do is keep them clean for a clear view. You won't need to scrape, stain or paint them the way you likely have to do with your current windows.
Take a look at your windows now. Do you see cracking frames? Is the paint peeling away? Are bugs living around the frame? It's time to upgrade your windows.
Improve the Look of Your Home
Vinyl windows come in a wide variety of colors, sizes and styles, allowing you to create whatever look you like for your home. During the summer, you will be holding a lot of parties and family gatherings. You want your home to look its best. Now is a great time to update your home with vinyl windows.
Don't let older windows continue to bring down the value of your home. Consider upgrading to vinyl windows this summer and start lowering your energy costs and your maintenance. If you are ready to start shopping, contact this windows company in Bradford for a variety of styles at affordable costs.