Getting the Very Best Deal on the Best Vinyl Windows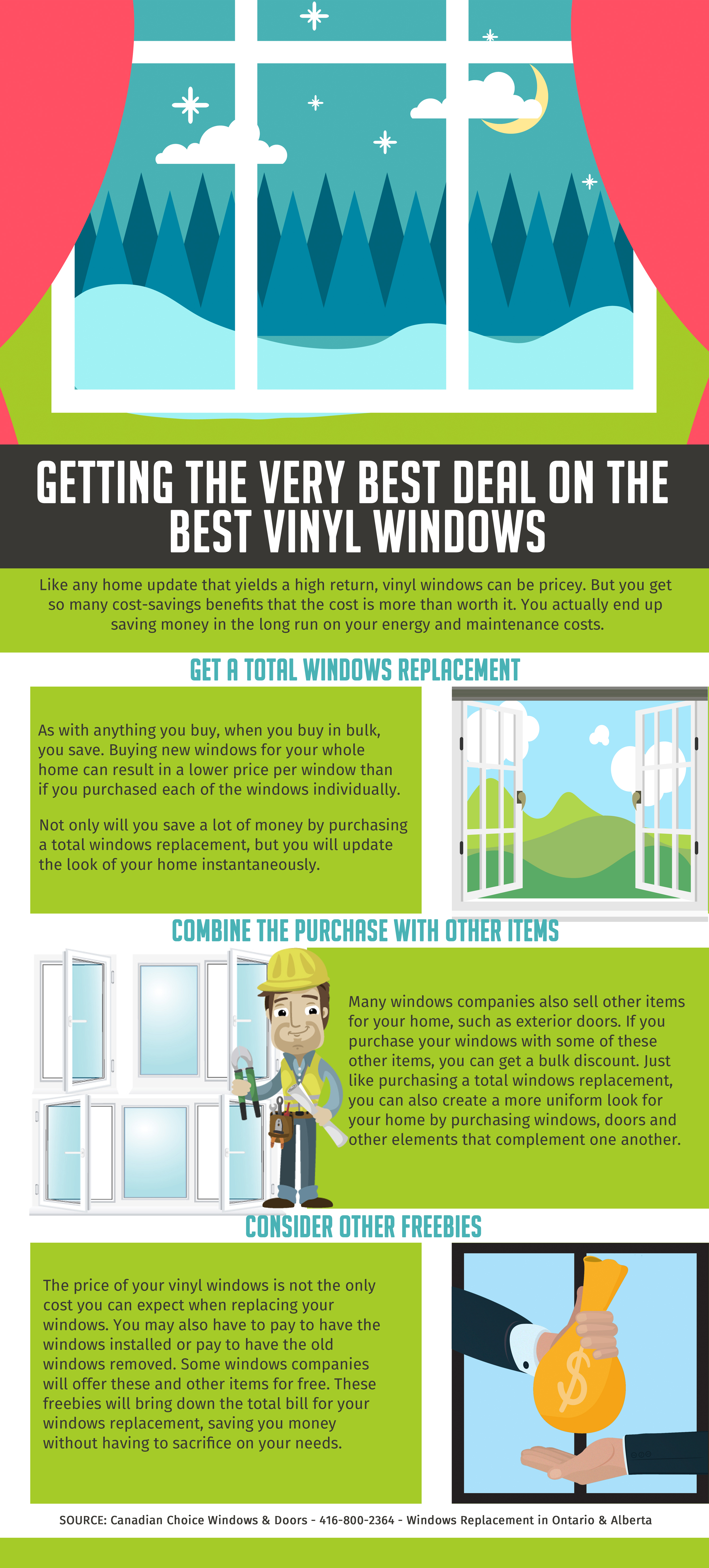 Embed Our Infographic Into Your Website!
Read more
Like any home update that yields a high return, vinyl windows can be pricey. But you get so many cost-savings benefits that the cost is more than worth it. You actually end up saving money in the long run on your energy and maintenance costs.
Still, some can experience a bit of sticker shock when they go shopping for vinyl windows for their Cochrane home. Here are a few things you can do to get the very best deals on the best vinyl windows so that the shock is quite so bad:
Get a Total Windows Replacement
As with anything you buy, when you buy in bulk, you save. Buying new windows for your whole home can result in a lower price per window than if you purchased each of the windows individually.
Not only will you save a lot of money by purchasing a total windows replacement, but you will update the look of your home instantaneously. Think about how a single new window would look against a sea of older windows. It would stand out like a sore thumb. Buying a total windows replacement ensures a uniform look with matching windows.
Combine the Purchase with Other Items
Many windows companies also sell other items for your home, such as exterior doors. If you purchase your windows with some of these other items, you can get a bulk discount. Just like purchasing a total windows replacement, you can also create a more uniform look for your home by purchasing windows, doors and other elements that complement one another.
Consider Other Freebies
The price of your vinyl windows is not the only cost you can expect when replacing your windows. You may also have to pay to have the windows installed or pay to have the old windows removed. Some windows companies will offer these and other items for free. These freebies will bring down the total bill for your windows replacement, saving you money without having to sacrifice on your needs.
Finding a windows company that offers low-cost financing can also help you save money, since you are not likely to be able to pay the whole cost in cash. Call this Cochrane windows company to learn more about financing and other offers that make new vinyl windows more affordable. You can get the windows you need without breaking your budget.