Vinyl replacement windows are a great way to make sure that your home becomes more energy efficient, secure, and valuable. This guide to vinyl windows will answer important questions that you might have about this material, present vinyl windows pros and cons, and provide you with valuable tips that will help you to determine how best to install these windows in your home.
Why Vinyl Windows?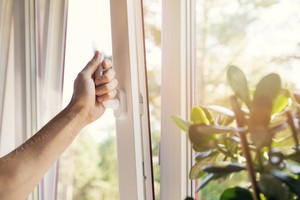 So why should you consider using vinyl windows in your home? This window material comes with many benefits, and can usually stand point for point against any other material while still coming out on top. Vinyl window life expectancy far outstrips most other window types, and it remains durable and energy efficient for a period of decades. This saves you a lot of money over the long run in terms of both maintenance costs and energy bills. Vinyl windows design options can match the character of virtually any house, allowing you to create a seamless look that matches your home style and increase equity. Finally, these windows are very customizable and easy to install, making them a valuable addition to any home.
Vinyl Window Composition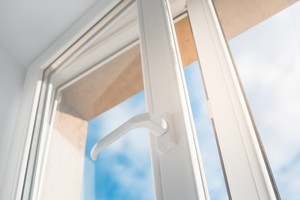 What are vinyl windows made of and how can those materials help to improve your home? Most vinyl windows use polyvinyl chloride, or PVC, for their frames. This is a chemically-created form of vinyl that is also used in plumbing and electrical pipes. PVC provides a great deal of flexibility, which helps to reduce air leaks that could lead to a drop in energy efficiency. The material is also very durable, which means that a typical vinyl window will last anywhere from 20 to 40 years before showing any signs of damage. In most cases, vinyl windows are the most durable, economical, and energy efficient windows on the market today.
Vinyl and the Environment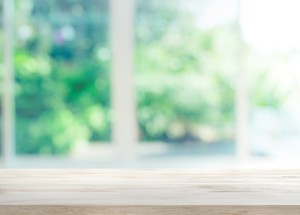 The fact that these windows use chemically-created PVC leads many people to ask the question, are vinyl windows safe? This question can be answered by examining two elements: the environmental impact of vinyl's creation and the likelihood of damage over the years. In the case of the former, PVC does involve the use of off-gassing techniques in its creation, which is not entirely environmentally friendly. In the case of fire, vinyl can give off toxic fumes that can be dangers. On the other hand, the use of vinyl means a higher overall energy efficiency, which in turn reduces the use of fossil fuels in home heating and cooling. The question of safety and environmental friendliness usually comes down to a less than ideal short-term in exchange for a safe and green long-term.
Cost of Vinyl Windows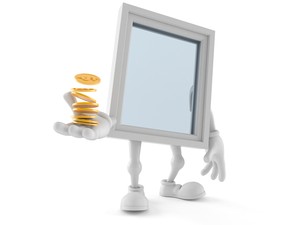 The exact cost of vinyl windows heavily depends on your region, the size of windows in your home, and the number of replacement windows you need. Generally speaking, however, the vinyl windows price comes out to less than comparable windows, especially when you factor in vinyl's resistance to damage from the environment. For a typical installation, the final vinyl windows cost comes out between $150 and $300 Canadian per frame as of 2018. If you use casement or bay windows, the price may vary. Finally, you should make sure to check on government rebates for your installation. Any high-efficiency windows might wind up providing you with a rebate per window that can greatly reduce the overall cost.
Get $500 Off Your Next Order >
Comparing Vinyl to Other Window Types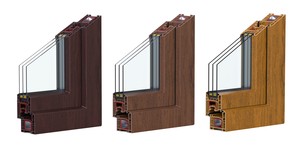 Vinyl is hardly the only window type out there, and many homes use different materials to achieve close to the same results. This is especially true in older houses, where wood, aluminum, and fiberglass windows are all common. The next few paragraphs compare and contrast these window types to modern vinyl windows, allowing you to decide what material is right for you.
Wood Windows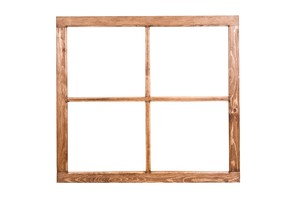 Houses that place a high value on character over energy efficiency can benefit from wood window frames. In terms of overall cost, wood windows exceed vinyl windows price on installation, but can make up the difference over time. Vinyl windows last at least 20 years or more, but well-maintained wood windows can last even longer. On the other hand, wood windows tend to swell and sometimes warp due to weather factors. This can create large air leaks which completely ruin their energy efficiency. Vinyl windows, by comparison, create a completely airtight seal. Wood has slightly more customization options and can be stained or painted easily, providing a home with more character. For some people, this last point matters more than the long-term cost of the window materials.
Aluminum Windows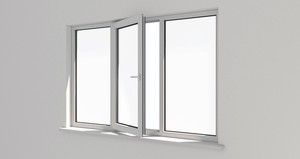 In the vinyl vs. aluminum windows debate, vinyl comes out on top in most categories. Vinyl windows benefits include better energy efficiency, less condensation, and better noise reduction. However, aluminum does have a couple of advantages that some people like to point to. This includes the ability to paint the aluminum frame to match the color of a home's exterior. Vinyl windows cannot be effectively painted, making an exact color match difficult at times. Aluminum windows also tend to be more resistant to scratches and impact damage. However, it is worth noting that aluminum can be prone to corrosion. In the case where an aluminum frame has been painted, a scratch won't damage the frame but may expose the metal underneath the paint.
Fiberglass Windows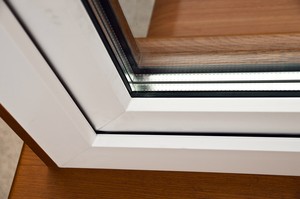 One of the biggest debates going on in the window industry today is the question of vinyl vs. fiberglass windows. Of the different window materials on the market, fiberglass provides the stiffest competition for vinyl. Fiberglass can be painted, unlike vinyl, and can mimic the look of wood to match the character of a house. It very rarely warps and is incredibly durable. Finally, it is more eco-friendly than vinyl, since a typical fiberglass frame is made of 60% recyclable glass. At the same time, fiberglass does tend to be much more expensive than vinyl. With vinyl prices projected to remain steady in the years to come, it is highly likely that the vinyl windows cost will stay lower than fiberglass for the foreseeable future.
The Cons of Vinyl Windows
Most of the material above has focused on the pros of vinyl, but it's worth noting the cons as well before you commit to getting some new vinyl window frames. Those who criticize this material most often bring up the use of chemicals in vinyl windows design. As discussed above, the use of PVC in these windows means the use of chemicals in their initial construction, which is not very environmentally friendly. In addition, the fact that vinyl windows are designed without a specific home in mind sometimes means that the frames do not match the house, especially if the house as a unique color or character feature. Most people deem these drawbacks to be negligible, but it is worth knowing the few potential problems with vinyl windows before you make a purchase.
Analyzing the Information as a Whole
So are vinyl windows better than the alternative? It depends on several factors. Using the information above, you should be able to conclude that vinyl windows are best for you if you fit one of the following criteria:
You are primarily concerned with the long-term durability of your windows. If you don't want to worry about installing new replacement windows for the next several decades, vinyl windows are a good choice.
You want to save on energy costs. This is especially important in areas like Toronto where the winters can get very cold and the summers can get very hot. If you want the most energy efficient windows possible, vinyl is a good choice.
You are working on a budget. If you have a fairly tight budget or simply want to save money on your replacement windows options, vinyl windows provide you with the most bang for your buck. They also come in a wide variety of different styles, allowing you to choose the exact type of window you want for your property.
Questions for Your Installer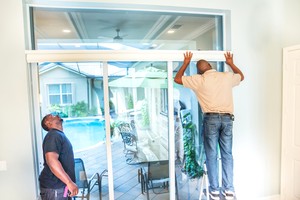 If you've read all of the above information and have decided that vinyl replacement windows are a good move for you, it's time to start looking into potential installers for your windows. Finding the right professional to help you in this regard involves asking a few important questions. If you make sure to bring these up prior to the signing of any contracts, it will greatly help both you and the installer you eventually choose.
Liability and Insurance
Even the most experienced installer can sometimes make mistakes, and that can damage your home's value if the installer is not properly insured. Something as simple as a mismeasurement in vinyl window frames could lead to additional patching and modification that can stretch a job out longer than expected – increasing the price as it does so. The best way to avoid these unfortunate problems is to make sure that the installer has all the liability insurance required in your region. This covers you in case something goes wrong while still allowing you to reap the full benefits of vinyl replacement windows. Any reputable installer will provide insurance information upon request – failure to do so is definitely a red flag.
Size of the Supplier's Selection
It may not seem like a big deal if your supplier has only a few style selections, as long as you can find the vinyl window design that you want. In reality, a small selection can often show a lack of experience in the field or worse, a hint that manufacturers don't necessarily trust the contractors to install their product correctly. You should take the time to peruse your supplier's inventory and see how many different selections they provide. Take special note of whether you can get window styles for more popular modern designs, such as casement windows. If this is the case, it suggests that the installer has stayed up to date on the latest trends within the industry. This in turn suggests that you are dealing with somebody who can provide the full array of vinyl windows benefits to your home.
Customer Reviews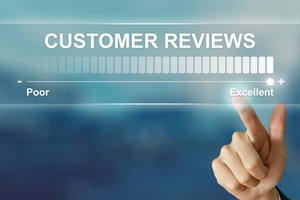 One of the most important tips for shopping for vinyl windows that you should keep in mind is to take a look at what other customers, both satisfied and dissatisfied, have to say about the manufacturers and installers you are considering. By carefully examining vinyl windows reviews, you can make sure that you get a clear and unbiased look at a company without having to sift through what could be misleading information and sales-speak. Make sure to consult multiple vinyl windows reviews and to check feedback from both sides. Read reviews carefully and consider whether the situations stated by a customer come close to what you can expect. The more information you have from word of mouth and online reviews, the better equipped you are to make an educated decision regarding your vinyl windows job
Warranty Information
One final thing that you should check out when choosing your replacement windows is the warranty terms offered by the manufacturer. Most vinyl windows come with very generous warranties, since they are expected to last decades or longer. Usually, you should pay special attention to the manufacturers that provide a lifetime warranty. A shorter warranty is not necessarily a sign of lack of faith in a product, but it does mean that you might be on the financial hook for issues that crop up years down the line, be it from weather-related damage or manufacturer defect. By knowing how long you are protected for and under what circumstances, you can gain valuable information that can help you make your final decision regarding vinyl windows.
Get $500 Off Your Next Order >
Through the information above, you should now have a good idea of the strengths and weaknesses of vinyl windows, how they match up to other window materials, and what sort of things you should look for in a manufacturer and installer. Overall, vinyl windows tend to be a very good value and one that can make a difference in your home in many ways, as long as you enter the situation properly informed.