Best Accessories to Purchase for Your Vinyl Windows
Want to enhance the look and performance of your vinyl windows and home in general? Choose elegant and stylish windows accessories for completely custom design and better energy efficiency. Check out our infographic to find out what vinyl windows accessories to consider for your Brantford house.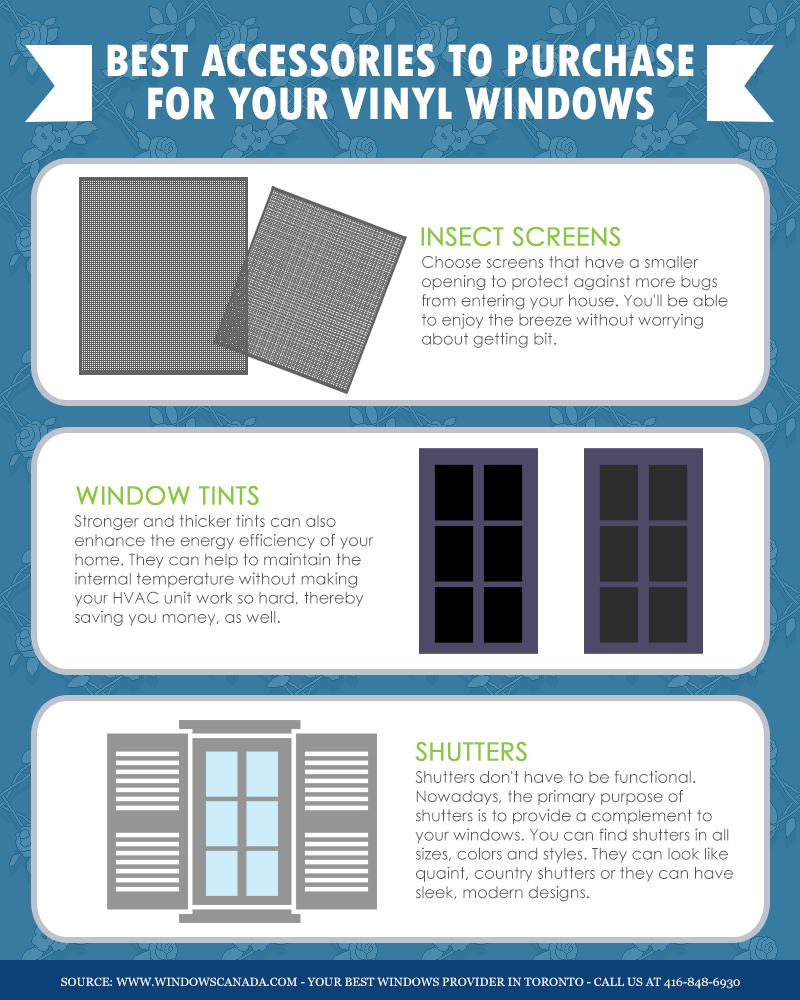 Embed Our Infographic Into Your Website!
Read more
Vinyl windows are an excellent investment for your home. They help to improve the energy efficiency of your home while also lowering your overall home maintenance. You'll save money and time by installing vinyl windows.
With the right vinyl windows selection, you can also improve the aesthetics of your home. Large, open windows can make your home look more modern and more inviting. Windows with unique designs and finishes can create a quaint, charming look for your home.
Whether you are installing new vinyl windows in your Brantford home or you are considering an upgrade, you should also consider a few accessories that will enhance the look or performance of your windows. Here are a few of the top accessories to consider for your vinyl windows:
Insect Screens
The screens on most windows are small enough to protect against larger insects like flies or roaches, but they can still let quite a few creepy crawlies sneak through. It feels great to be able to open your windows on sunny days and let a cool breeze waft in, but that feeling will quickly be ruined when you notice that a line of ants or other insects are marching in.
Choose screens that have a smaller opening to protect against more bugs from entering your house. You'll be able to enjoy the breeze without worrying about getting bit.
Window Tints
A number of window tints are available that produce different results. Some tints work just like those you put on your car and block out the harsh glare of the sun. These tints can cast a nice shadow on the interior of the room and provide a little privacy even when you have the curtains open.
Stronger and thicker tints can also enhance the energy efficiency of your home. They can help to maintain the internal temperature without making your HVAC unit work so hard, thereby saving you money, as well.
Shutters
Shutters don't have to be functional. Nowadays, the primary purpose of shutters is to provide a complement to your windows. You can find shutters in all sizes, colors and styles. They can look like quaint, country shutters or they can have sleek, modern designs.
If you already own vinyl windows, consider some of these accessories to enhance their performance. If you haven't yet discovered the benefits of vinyl windows, call this Brantford windows company to get the best deals.