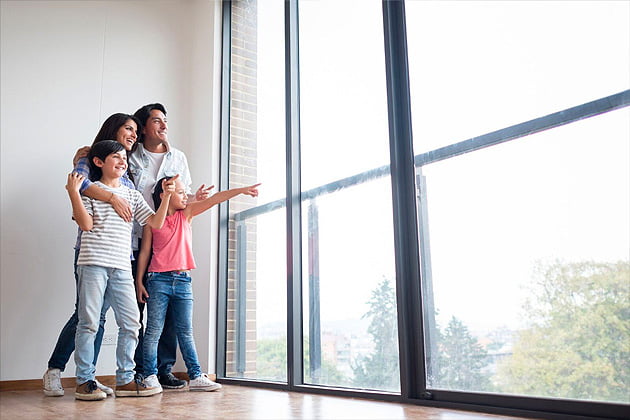 The right window replacement can be the difference between a shoddy home replacement project that needs maintenance in a few year's time or a long-term investment that can last you a lifetime.
If you're looking for top window replacement companies in the area, it's crucial to take a look at a variety of factors such as affordability, energy efficiency, design and quality of service, here are a few top suggestions.
Canadian Choice Windows and Doors
With an average customer rating on HomeStars of 9.4/10 and over 30+ years of experience, Canadian Choice Windows and Doors has been providing Calgary residents with the best of energy efficient home replacement windows and doors at affordable prices.
Providing customers with a top-tier experience in both product and service quality has been a Canadian Choice Windows and Doors staple since its inception. We pride ourselves on equipping our products with only leading hardware all manufactured in our local Canadian Choice WIndows and Doors facilities.
We produce – We install – We maintain.
To help you with picking out the ideal window replacement models for your Calgary home, our experienced team of our licensed trained-in house installers and project managers is here. Be secure in your purchase knowing that our products come with a FREE 25-year warranty and contact your local Calgary windows company today for a FREE quote and consultation!
Premium-Grade DraftLOCK Technology
With the addition of our newly reinforced 1 3/8" glass units and triple glazed sealed welded frames, enjoy unparalleled performance at unparalleled prices. Keep harmful UV rays out while keeping leaks and drafts at bay for good.
Outperform virtually any climate with Canadian Choice Windows and Doors patented replacement window technology. Our Low-E coating technology allows for premium heat absorption during winters and reflecting during summers for a comfortable home year-round.
Increase your home's energy rating by UP TO 25% and save UP TO 50% on energy costs with our DraftLOCK PLusSlim Contour Series vinyl windows – made with 100% eco-friendly and recyclable uPVC material and ALL certified as Most Efficient by Energy Star 2021.
The Customer Is Always Right
Our goal is to ensure you are completely happy with our work. With our years of experience under our belt, we come up with a comprehensive unique plan tailored to your home and always take your concerns seriously.
We've been ranked as the Best of HomeStars 2021 with over 2K + positive reviews and more than 1M+ installations across Canada. Your satisfaction is always our #1 priority, contact our customer service team if a manufacturing or installation issue ever inconveniences you, and we'll address it as soon as possible FREE of charge.
Hi-Tech Energy Windows and Doors
As the winner of the Consumer Choice awards in 2010, Hi-Tech Energy Windows and Doors has gained a 9.1/10 customer rating on HomeStars by diligently serving Winnipeg residents with quality window and door replacements made to last.
Hi-Tech Quality and Performance
Hi-Tech Energy Windows and Doors offers its customers access to its weather-resistant and durable SUPERCORE system, designed to save on energy and heating costs. WIth a solid internal surface and airtight santoprene seals, keep your home cozy and leak-free.
Get any window of your choice with Hi-Tech's customizable SuperCORE window systems, designed to manufacture windows to meet your home's unique needs. Experience a contemporary modern window look to keep your home sleek, stylish, and classy.
Our Reputation
If you're in Winnipeg and wondering if you're in the service area for Hi-Tech Energy Windows and Doors, wonder no longer. Hi-Tech is happy to serve all Winnipeg and surrounding residents; they'll send a local associate to your door for a quote and consultation upon request.
Interested in customizing your windows and doors with additional features? Let your associate know in advance and they'll make it happen. Perfect your home just the way you want it with Hi-Tech Energy Windows and Doors today!
All Star Home Replacement Windows and Doors
As one of Calgary's largest locally-owned window and door replacement companies tackling everything from bungalows to mansions, All Star Home Replacement Windows and Doors boasts a 90% Star Score for 90% and a 5-star rating by the Better Business Bureau.
Top-Quality Vinyl Windows
With vinyl replacement windows as one of their big sellers, All Star ensures that all their products meet or exceed regulations on vinyl window replacements. With accurate estimates, replacement projects always completed on schedule and a metickours crew, All Star ensures they get the job done right every time.
Their interior finish, glass, spacer and style options all allow for a customizable and personalizable window and door replacement to perfectly suit your needs. Whether you want a casement or bay window, a patio sliding door or a steel one, All Star is here for you.
Our Reputation
With more than 3 decades of serving Calgarians, All Star Home Windows and Doors knows the community inside and out. As with all Calgary window installation companies, mistakes will sometimes happen whether we want them to or not.
All Star Home Windows and Doors is at the ready with a dedicated customer service crew to address your needs as soon as possible. Whether it's a wrong window/door delivery, problems with installation, manufacturing or even billing, they work for your convenience.
MAXgreen Window, Doors, Sliding and Roofing
Could you go for a new roof? Maybe a sliding window? With an impressive record on HomeStars, MAXgreen also boasts a 95% average customer rating and has been diligently serving residents of Calgary to provide quality window, door and roofing replacements.
Your Leak-Proof Home Experts
As a mainstay in the Calgary home improvement market, MAXgreen Window, Doors, Sliding and Roofing employs a talented team of staff including installers, project managers, customer service staff and more to bring the best of home improvement to homeowners across Calgary.
Get in touch to book your very own quotes and consultation today to contact a local project manager. You'll be assisted in everything from modelling and planning out of the project, to making important design and technical choices before finally scheduling a date for installation, whether rain or shine.
Keeping You First
To keep you safe, MAXgreen Window, Doors, Sliding and Roofing has all of its products approved by their true 25-year warranty with your satisfaction guaranteed, no tricks, no last minute charges or loopholes.
Additionally, if your glass breaks within 2 years with no visible cause, the MAXgreen team will come over and replace it for you at NO charge to you. When it comes to roofing, they always make sure to include a free gutter cleaning and wall sheathing replacement to boot. Get the best of both worlds with MAXgreen Window, Doors, Sliding, Roofing today.
Windows and Doors by Lux
As one of the longest-running window and door replacement companies in the Calgary area, Windows and Doors by Lux has been in the industry for over 50 years servicing Albertans of all stripes, whether it's for a meagre bungalow or sprawling mansion.
Windows For All, Made For You
With Lux Windows and Doors, experience the whole array of window and door replacement. Choose from a world of possibilities with stylish new Lux Windows and Doors. Everything from brickoulding, their PVC series windows and a new Lynx Hybrid series is just at your fingertips.
With year-round window and door renovation done right, Lux Windows and Doors ensures to meet your budget, performance and design needs in one. If you are ever in doubt, a Lux representative will be there to help you sort through their extensive catalogue and find a model that best suits your needs.
Our Reputation
Although some customers have noted issues in regards to issues with scheduling and crew members howling late, the robust customer service team at Lux clears up any misunderstandings faster than you can open your mouth.
With competitive pricing and financing plans along with a cash rebate when replacing your windows, compare deals with other window replacement companies in the region to find the best company for your home today.
Supreme Windows
With an impressive 96% Star Score on HomeStars, Supreme Windows makes a name for itself in the Calgary home improvement market. Widely recognized, Supreme WIndows thrives when it comes to superior service, support, design options and pricing.
Windows for Any Home, Custom Designed for You
At Supreme Windows, find the window style that best suits your needs. Looking for a bright, expansive window to flood light into your dining room or living room? They got it. How about a compact and secure one for your bathroom? Of course. How about a sleek and modern front door? Ask no more.
Unfortunately, Supreme Windows interactive online platform allows you to look through all the various window and door options available to you before making a decision. As always, their dedicated staff is here to support your every step of the way to help transform your home from ordinary to extraordinary.
Customer Service
Unfortunately for Supreme WIndows, a recent supply shortage in windows and doors has resulted in larger than normal wait times when it comes to delivery as well as unavailability in specific design options.
Overall, Supreme Windows makes up for it with their general warranties that ensure no matter what happens, you can be secure in your purchase alongside a financing option to help people in Calgary of all stripes get the home improvement they need.
Centra Windows
Known until recently as Supreme Windows Calgary before their growth into the largest window installation company in all of Western Canada, Centra Windows offers energy-efficient products to residents of Alberta with professionalism and ease.
With universally positive feedback and high customer reviews, Centra Windows is there for the residents of Calgary, bringing them window and door installation and manufacturing services they can trust for their home renovation projects and the homes of their dreams.
Green Fox Windows & Doors
As the leading energy-efficient window and door provider in Calgary, Green Fox Windows & Doors is dedicated to the residents of Calgary, bringing them a wide selection of styles and colours for their home renovation project.
With Canadian-made windows designed to withstand Calgary's climate, Green Fox Windows & Doors has held the status of the Best of HomeStars Calgary since 2015. They offer a variety of options to finance your new windows, along with a 25-year transferable warranty on all their window products.
Window Mart
Bringing the Calgary community high-quality windows and doors, Window Mart is devoted to 100% customer satisfaction, working exclusively with Canadian manufacturers in order to help residents prepare for the demands of the Canadian climate.
With a team of expert installers and a wide variety of window and door products available, Window Mart holds a rating of 4.8 stars on Google, as well as the title of the Best of HomeStars 2022 and an A+ BBB accreditation.