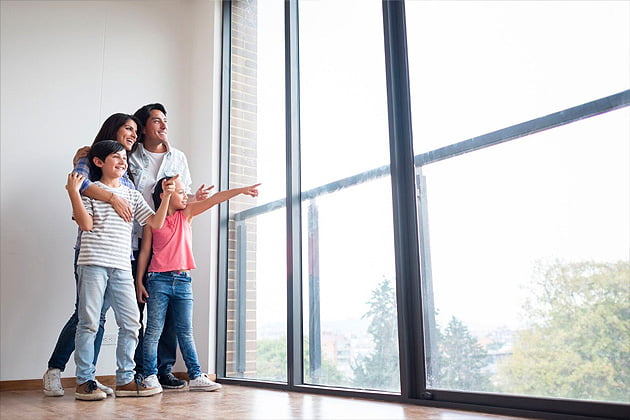 Planning on investing in brand-new energy efficient windows and doors in BC? Not only do they improve your home's energy rating, saving you money and increasing your home's market value is key. Qualifying for a rebate is a great way to offset the costs of installing new windows and doors but you'll be required to comply with their criteria.
With Canadian Choice Windows and Doors' superior DraftLOCK technology, we provide Canada with premium window and door replacements – manufactured locally at our Canadian Choice Windows and Doors facility with the help of our licensed and trained-in house installers and project managers.
How Much Of A Rebate Can I Receive?
The BC Hydro Rebate for windows and doors provides rebates to individuals who renovate their homes with energy efficient windows and exterior doors that are equipped to drive down energy costs. Depending on the product's specifications, there exist 2 rebates.
UPGRADE
REBATE AVAILABLE
Windows:
U-Factor 1.40 – 1.23 (W/m2-K)*
$50 per window,
maximum rebate $1,000
Windows/doors:
U-Factor 1.22 (W/m2-K) or less
$100 per window or door,
maximum rebate $2,000
The U factor is a rating for measuring a window or door's resistance to heat flow. The lower the rating, the better the insulation. The amount of windows you replace can also make a difference, replacing 5 windows will give you less of a rebate than replacing 15.
As of 2022, windows with a U factor of 1.4-1.23 can qualify you for a $50 rebate per window and a $1000 maximum, this is known as Tier 1 rebate which is available everywhere in British Columbia, with the exception of Vancouver.
On the other hand, the Tier 2 rebate, which applies to windows and doors with a U-factor of 1.22 or less with a $100 rebate per window and door with a $2000 maximum. This program is available everywhere in British Columbia, including the Vancouver Metropolitan Area.
How Can You Be Eligible for a Rebate?
All eligible window and door replacements must be handled by a properly licensed contractor approved by one of the following organizations:
Canadian Standards Association (CSA)
Intertek Canada (Intertek)
Labtest Certification (LC)
QAI Laboratories (QAI)
National Fenestration Ratings Council (NFRC)
ALL Canadian Choice Windows and Doors products are certified by the Canadian Standards Association (CSA) and the National Fenestration Ratings Council (NFRC).
What Type of Homes Are Eligible?
The property must be one of the following: a single-household structure, a row home, a townhouse, or a duplex. Mobile homes are eligible if they rest on a permanent foundation. Skylights, apartments, and condos are not eligible for this rebate.
Are There Any Specific Window Materials Required?
Not only the applicant, but the contractor as well need to comply with certain standards. All windows need to satisfy the following requirements:
Must be certified by one of the following agencies: the Canadian Standards Association, Labtest Certification, the National Fenestration Council or Intertek Canada
Must meet the metric U-factor for Tier 1 or 2 (*Tier 1 rebates are unavailable in Vancouver*)
Window designs can NOT be skylights
What I Need to Know for the Application Process
To apply for and receive your rebate, you'll need to have an established and active account with BC Hydro or FortisBC. While making your application, ensure you have NO/minimal outstanding balances and have AT LEAST 12 consecutive months of utility billing history.
The application process has been streamlined to be as intuitive as possible. Simply submit your rebate application along with all necessary supporting documentation within 6 months of the invoice date. Downloading the list of data required beforehand to fill out the application is strongly recommended.
You can make your submissions by post or online, both through your account linked to BC Hydro or FortisBC. Ensure your filed invoice includes all required information as outlined in this BC Hydro sample invoice. You can also use this sample rebate checklist to maximize your chances for a successful application.
How Will I Know If My Rebate Has Been Approved?
Using your online account with either Hydro BC or FortisBC, you should be able to track the progress of your rebate. Simply create your account and login from time to time to check in. In the meantime, the company will review your application and have it under consideration. You'll receive a notice on your account if you've been approved for the rebate.
Your Rebate and Next Steps
Your rebate can help you save BIG on your next home renovation project. If you're having second thoughts, just remember this. Installing energy efficient replacement windows and doors in your home is not only a design upgrade, it's a long-term investment.
With your very own rebate customized for your project, you can add to your savings and provide funds for additional improvements. Thankfully, with Canadian Choice Windows and Doors, we provide the very best of local, reliable energy efficient window and door replacements in BC.
Our team of experts are here to bring you the best personalised home improvement experience with optimized lighting, security, design and performance for all our products – ALL designed to maximize the end result. With our flexible financing and accessible rebate programs, apply today to make the most of your home!