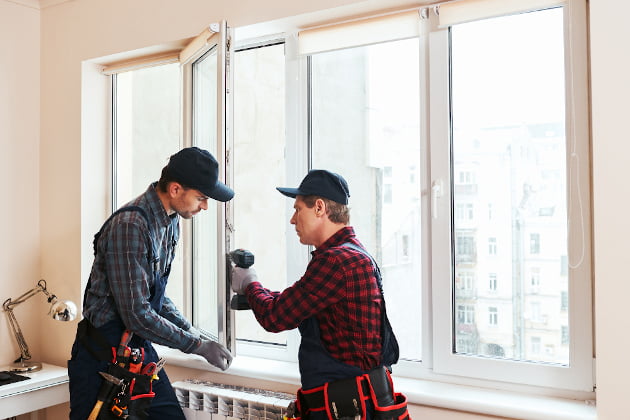 One of the most common home improvement projects today involves replacing aging windows. This is often more than simply a way to give the look of the place a lift. Windows that stick, won't stay up, or in general offer little in the way of function can be frustrating. The decision to replace them, along with any exterior doors that don't seem to work as they should, will make all the difference to the homeowner.
Are you thinking about replacing your residential windows in Edmonton? How about some of your exterior doors? There are plenty of options for window and door companies in Edmonton. Which one is right for you? Here are some of the best window companies around the city along with a little information about each. One of them could be exactly what you want.
There's no doubt that Canadian Choice Windows & Doors is among the best window companies in the area. Consumers provide the company with high marks when it comes to a versatile product line, professional interactions with contractors and customer support personnel, and the quality of their installations. With a Google Review rating of 4.4 and a Homestars rating of 9.4, you can see why past customers are happy to recommend this company to their friends.
Dealing with jobs that involve windows of different sizes and designs is not a problem For Canadian Choice. This makes them a good choice for consumers who have older homes where all the windows are not necessarily standard sizes. Consumers who want to go with different window styles rather than replace the old ones with newer counterparts will find plenty of support. In fact, the contractors will often help clients explore the features and appearance of different styles so they have a better idea of how they would improve the looks of the home and offer more functionality.
The company also receives high marks in the area of responding to customers when they have questions or concerns. This continues after the installations are complete. Thanks to the guarantees they offer on their work, homeowners can rest easy knowing that the company still considers them important after the installation is completed. Without a doubt, Canadian Choice deserves to be counted among the top window companies in Edmonton.
Sunview Windows & Doors
When homeowners begin looking for window companies that can help them with home renovations, it's only natural to focus on attributes like quality and price. Those are two of the primary reasons Sunview Windows & Doors rank so high among consumers. Their Homestars rating is an impressive 9.8 while Google Reviews comes in at 4.9.
Consumers who compared the top window companies in the area and ultimately settled on this company seem to consistently point out the quality of their windows and the competitive pricing. The company also receives high marks for accurate quotes, installation crews that clean up after themselves, and offering financing options that are simple to understand and include reasonable interest rates. If you are asking "which of the window replacement companies near me is worth my time?" you definitely want to include Sunview in your list of possibilities.
Durabuilt Windows & Doors Inc.
Many homeowners place Durabuilt Windows & Doors among the best window companies in the city and in fact in the entire province. Using the Homestars scale of 1-10, past clients rate the company at 7.1, with high marks for quality and the accuracy of their quotes. Google Reviews find that past customers give the company a rating of 3.4 on a scale of 5.
Along with citing high quality windows, there are some past customers who were unhappy with the actual installations. That included the way the window seating was done. Issues with sealing around the new windows was also mentioned by some reviewers. In instances where some installation issues were reported, the company ultimately made things right, allowing them to remain one of the Edmonton windows companies that are considered to have a positive reputation.
Canglow Windows & Doors Inc.
Canglow Windows & Doors has developed a solid reputation for offering products and installations at fair prices. Many homeowners find that they are excellent when it comes to making repairs to older windows as well as installing new ones. Among the Edmonton window installation companies, they often compare favourably in terms of working with customers to set up installation dates and schedules.
Google Reviews shows the company with a solid 4.8 rating. Over at Homestars, they command a respectable 8.7 rating. Some clients do report some communication issues after choosing their window and door options, but those seem to be resolved quickly and to the satisfaction of most consumers. Their responsiveness during and after the installation is one of the reasons why they are consistently considered one of the top window replacement companies in the entire province.
Supreme Windows & Doors Ltd
Considered among the best window companies in the entire nation, there's no doubt that Supreme Windows and Doors also holds a high spot in Edmonton. The company has an impressive Google Reviews rating of 4.9. To go along with that, Supreme's locations throughout Canada average out to 9.6.
As with other highly-rated Edmonton windows companies, Supreme has a reputation for offering only the highest-quality in windows and doors. They consistently provide offers that are energy-efficient, something many homeowners want. Their commitment to ensuring the installation process goes smoothly is confirmation that they belong in any list of the top window replacement companies in the province.
Reflect Window & Doors
Reflect Window and Door is noted as being a versatile company. They offer window options that work equally well for everything from a smaller home to a mansion. As is true of many of the best window companies, the team at Reflect does not shy away if a replacement project involves customized windows. That makes them the ideal choice if you have an older home where many of the windows are not exactly the same size or type.
As home window replacement companies in the area go, Reflect posts mainly positive responses from consumers. They currently have a Homestars rating of 8.0, with many consumers providing them with their highest scores for responsiveness and general quality. Some past customers note that members of the installation teams would let them know when the noise level would increase during certain phases of the replacement projects. Little courtesies like that one have helped the company to become a favourite in the area. Without a doubt, they deserve to be considered among the best residential window companies in the area.
North Tech Windows & Doors
North Tech receives high ratings on a number of fronts. In terms of how they compare to other home window replacement companies in the area, they do a good job of matching window styles, options for materials, and the quality of the completed projects. Many people note that they offer quotes that are reasonable and accurate. Another major perk is that North Tech is among the local residential window companies that cleans up once they complete a window or door replacement.
The company has a current Homestars rating of 8.8. The matches nicely with a Google Reviews rating of 4.7. One area of concern that some customers raise is the amount of time it takes to start the actual replacement. A few reviews mentioned that it took several weeks to begin the work, even after all of the paperwork was in order. Before agreeing to accept any offer, make it a point to find out how long it will take for the windows to be prepared for the replacement and when the actual work will get underway.
Pella Windows and Doors of Edmonton
The team at Pella knows that consumers have plenty of options when it comes to window and door companies in Edmonton. That's one reason they emphasize customized service for all of their clients. They have a reputation of working with clients who need new windows and doors but also must be mindful of their budgets. That's helped them to be considered among the best house window replacement companies in the greater Edmonton area.
Google Reviews have the company enjoying a solid 4.1 rating. The company's Homestars rating is currently 8.1. Many clients appreciate the way company representatives help them select options that work well for their homes. A few have noted that the screens that come with the patio doors don't always function as well as the windows and doors. To the company's credit, they move quickly to take care of any customer concerns during and after the initial work.
Hometech Windows and Doors Inc.
Without a doubt, Hometech Windows and Doors should be on the list of the best window replacement companies in the Greater Edmonton Area. The company boasts an impressive 9.4 Homestars rating, coupled with a 4.2 rating at Google Reviews. A number of past clients note that they were impressed with the company from the moment they first made contact. Things only got better when contractors provided them with quotes for new windows and doors that were reasonably priced.
The true test came when the installation was completed. Several past clients note that the company did thorough quality checks before considering the installations to be over. That included walk-throughs with the clients to answer any questions they had. In terms of professional care of clients, Hometech is hard to beat.
GreenFox Windows & Doors
GreenFox Windows & Doors is another example of a company that does not hesitate to take on projects that are a little out of the box. The company is know for offering a wide range of options for windows and doors. That includes the option to order custom sizes that fit perfectly. Homeowners who want to update the windows or doors in a house that's several decades old know that the choices are not always varied. With GreenFox, they can depend on finding something that fits the home's style. If needed, the company will custom design windows or doors that look and function exactly the way the client wants.
This commitment to providing high quality and support to their customers is reflected in the ratings and comments that those clients provide. GreenFox currently enjoys a 4.6 rating on Google Reviews, with many comments praising the ease of selecting new windows as well as the efficient installation process. Over at Homestars, the company sports a 9.6 rating for many of the same reasons.
The company has exhibited a strong commitment to communication with their clients. If anything could slow the installation or if there are issues that only become apparent after the team removes the old windows, GreenFox goes over the findings and provides customers with details about solutions. That's not something every window replacement company will do.
So what is the best Edmonton windows company in Edmonton? You're the one who will have to make that decision. By spending time checking out online reviews and ratings, it's possible to identify several likely prospects. Broaden your knowledge of what others think about local door and window companies by asking your neighbours, friends, and coworkers if they have any opinions. You never know when one of them may be in a position to offer you some first-hand experiences that help you move closer to selecting the ideal company.
Take your time and compare the merits associated with each of these house window replacement companies. Contact them and ask some questions about what they offer and how they go about managing projects for their clients. Pay close attention to how your call is handled, since it's often an indication of how contacts with other people in the company will go. Have representatives come by and provide estimates based on the type of windows and doors you want. It won't take long to complete your evaluation of the different Edmonton window installation companies and settle on the right one for your home.
Weather Pro
As veterans in the window and door manufacture and installation industry, Weather Pro has been servicing the needs of Edmonton residents for many years, bringing them products and services they can rely on for their home renovation dreams and goals.
With the latest advances in window and door technology and high-quality, efficient products perfect for the Canadian climate, the qualified team of experts at Weather Pro Windows and Doors is recognized with high reviews and positive feedback across the Edmonton community for their dedication to providing trusted window and door replacements.
Ecoline Windows
Bringing the residents of Edmonton high-end windows and doors for over 10 years, Ecoline Windows is there for Canadians looking for window and door replacements. Their products are NAFS-11 tested and Energy Star certified, and their team of professionals is dedicated to providing the community with the highest standard of quality products and services.
Ecoline works with the residents of Edmonton individually to make sure they are as happy as possible with their replacement windows once they are done working with you. They hold a rating of 4.6 stars on Google, along with universally positive feedback from residents of the community.