Need Replacement Windows? Here's 3 Insider Tips To Help You Shop
There comes a time in the life of many homes when windows need to be replaced. If it is time to replace the windows in your home, these tips from window insiders could help you out. We put together these three tips to help you get the most bang for your buck with window replacements.
1. Hire An Experienced Company
In order to ensure your windows are installed by experienced hands, it is best to hire the services of a company that has been in business for many years. This minimizes the risk of any mistakes being made that could end up costing you more money. This also has the added benefit of knowing a reliable company that you can contact again for any window needs you have, even years later. Making sure your new windows are installed correctly the first time is one of the best ways to save money in the long run because you won't have to have them repaired or replaced again. Properly installed windows can also help you save on your energy bills.
2. Do Your Research
Every home is different. Certain windows may be better suited for your home than others. It is a good idea to contact an experienced window company, or several, and get some advice on what kind of windows may be best for your home. Once you have a list of potential windows, take to the internet to read up on all of their pros and cons. This is a great way to figure out a checklist of features you want your windows to have. This checklist can be handy when visiting showrooms or shopping online. Gaining knowledge of all the different types of windows ensures that you get the best ones for your home that you will be happy with for years to come.
3. Function Is More Important Than Looks
Of course, you want your home to look nice, everyone does, but this should not take priority over function. It is important that your new windows do their job of providing natural light while also preventing heat escaping in winter and cool air escaping in summer. You also wouldn't want to install a window that has other issues. For example, some windows may be harder to clean than others. Other windows may be prone to warping in harsh weather conditions.
When shopping around for windows to replace your old ones, you should definitely consider the climate and what kind of weather you get season to season in your area. Vinyl windows are a great option to consider for homeowners in any climate. These windows are energy efficient, easy to maintain, and can withstand a lot of harsh weather. Vinyl windows do a great job of keeping homes warm in winter and cool in summer. It is possible to find vinyl windows in a number of styles and sizes, so you can find ones that look great on your home while also upholding functionality.
Before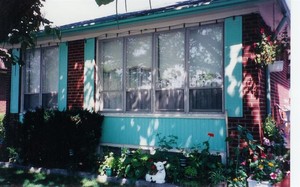 After