Benefits of Windows Tinting for Your Home
Windows are one of the most important elements of every house. They can either improve its efficiency and visual appeal or completely destroy it. If you are willing to make your windows more efficient than they are now, experts in Ajax advise to tint your old windows this summer and add some mood to your house in general.
Along with heat reduction, windows tinting film will also help you protect the investments inside of the house. Natural sunlight usually leads to the curtains, furniture, wallpapers, and even flooring fading. With the help of tints Ajax windows company representatives advise avoiding this unpleasant fading owing to great sunlight absorbing features of the tint. According to statistics, some tints can block and absorb up to 99 percent of the sun's ultraviolet rays.
Bask in the Benefits
If one tried to name all the tint benefits this article would have never ended, but here are some of the most important. The main function of windows in a house is to bring in natural light and provide ventilation, as well as maintain warmth and views of the world outside. Unfortunately, old and bad windows can also open you up to pretty high energy costs, excessive glare, heat build-up, and also fading of the interior furnishings. Special tinting for the home's windows allows you to bask in the sunlight and have a peace of mind about any issues.
Cut Home Cooling Costs
According to the statistics provided by vinyl windows replacement companies in Ajax around half of every home's utility bill is wasted by loss of heat during the cold season and heat gain during the hot season through untreated windows. With the help of window tinting you can significantly improve energy efficiency of the units and so the house in general. Such thin and absolutely invisible addition to the existing windows can help you save up to 50% on energy costs.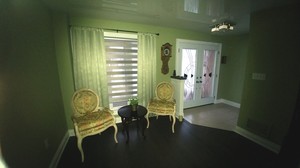 Reduce Heat and Glare
When you open draperies, blinds, and shades you let the natural sunlight into the house. As a rule it is accompanied by the unpleasant glare. Manufacturers say that window tints can reduce glare by up to 87%, which means that TV watching or working at a computer will become more easy and comfortable.
Diminishing the Effects of Harmful UV Rays
No secret that UV rays have a great influence on everything inside of the house in terms of fading. Window tinting can block or absorb, depending on the film, up to 99% of harmful rays. As a result you can protect you family from UV rays and your furniture from fading.
Protect Home and Family
There is no secret that glass can be an absolutely real hazard in the house if broken, especially for houses with kids. Ajax vinyl window replacement specialists advise applying windows tints that will work as a barrier for the windows should any hazardous impact occur. It means that in case of broken glass no pieces will spread all over the place but remain on the film.