7 Questions Most Homeowners Regret Not Asking Before Getting Better Windows
Like many Canadians living in harsh climates, you probably need to replace your windows for one of several reasons. Most likely, you need to lower your energy bills, stop irritating drafts, or replace old, unattractive windows for a fresher, brighter look. Whatever the case, once you've made the decision to get the work done, it's easy to get swept up in imagining where to spend the extra cash saved on your hydro (new flatscreen anyone?); or the various other benefits like sunbathing inside during the winter (something only true Canadians will ever understand…. )
The worst thing you can do, however, is rush into getting the job done - there is a lot you should consider before getting started. Improperly installed windows can lead to drafts, leaks, and even extremely expensive structural damage.
One construction defect company owner told the Wall Street Journal:
"40% of the repair jobs I handle are caused by faulty window installations. When water leaks into the walls (thanks to a botched installation) it rots the wood of the wall, the insulation, and can even penetrate to the drywall. If left unattended, the damp areas affected create the perfect breeding ground for mould that endangers the health of families as the structure of the home slowly rots away."
A company that cuts corners or lacks the experience to install windows correctly could end up costing you hundreds of thousands of dollars in repairs not covered by the manufacturer's warranty. Not to mention, if windows are not installed in accordance with the manufacturer's guidelines, they could void that warranty.
A case in Portland, Oregon saw $700,000 worth of damage done to a $750,000 home, all thanks to improperly installed windows.
Your home is likely the largest investment that you will have in your lifetime, and you must know that the company renovating it can be trusted. You need to do the due diligence to make sure you're working with professionals who will make the right decisions for your climate as well as your home's style and structure; not just offer the windows that will net them the most profit.
Make Sure Your New Windows Add Value To Your Home Without The Risk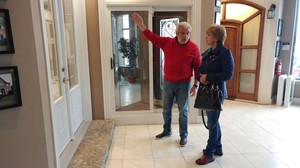 If you don't qualify your window installation company, it could wreak havoc on your home in the long term. You don't have to be a construction expert to do so, however - we've made a list of the 7 most important questions you should be asking an installation company BEFORE you start:
1.

How long have they been in business?
Working with a long-established company is a good way to ensure that they have the experience needed to properly asses your home, help you pick out windows, and install them correctly. Additionally, working with a well-established company you can have the confidence that if a warranty issue does come up 5 or even 10 years down the line, the likelihood of the company still being around to address it is high.
2.

Do they do the installation themselves, or use subcontractors?
Not all companies that sell replacement windows necessarily install them with a dedicated team of employees. They may have one or more contractors that they go to for the physical work. This can cause confusion around liability and warranties if any damage occurs during the install or the work is not completed properly, so tread carefully – you will have to qualify the contractor as well as the retailer if you decide to proceed with the company.
3.

Are they insured for both liability and worker's compensation? For up to how much?
If a company isn't insured, on the off chance that a worker gets hurt on your property or something is damaged during the install, you could be on the hook for the resulting costs. Most large, reliable companies insured for hundreds of thousands of dollars, even millions. Make sure you're protecting your home and your bank account by using a company that takes responsibility for its work and its installers.
4.

Do You Have a Portfolio of Completed Work?
Obviously any companies you will be qualifying will frame their answers a way they believe will earn them your business. Nothing will speak more honestly, however, than their past work. Consider asking:
- "Can I contact past customers for references?"
- "Can I view examples of completed jobs?"
- "Can you tell me about a few examples of complaint resolution you've handled?"
Speaking to former customers, viewing examples of their work, and learning how they deal with difficult situations will go a long way to verifying if how they're selling themselves is, in fact, the truth.
5.

What are the terms of their warranties? Do they have them for both the product and the installation?
There are many different types of warranties for replacement windows, and the more robust they are, the more faith the company has in their product and service. Is the warranty valid for 5, 10, or even 20 years? If you sell your home is the warranty transferrable? And does it cover just the physical window itself, or the installation job instead? The more boxes are ticked in their warranty guarantee, the more value it has to you.
6.

Is there a specific type of window or a brand they recommend? Why would this be right for you?
Knowledgeable companies will be familiar with your climate, structural components of your house, and which windows would be best suited to them. Be wary of companies that give out recommendations without visiting or at least seeing a picture of your home! Make sure you go ahead with a company that listens to how you want your home to look and work within that framework to deliver a practical, cost-effective solution based on expert knowledge of their products.
7.

How do they handle service issues after the installation is completed?
Obviously it's everyone's hopes that replacing windows will be a hassle-free experience, but if you're not prepared to deal with potential issues ahead of time it could cost you a lot of money somewhere down the line. Even the best of products can have the occasional manufacturing defect or fault once in awhile. A company with a dedicated service department and a structured service plan, who can explain to you the steps that need to be taken once an issue arises, will save you from hassle if disaster strikes in the future.
While there's a lot more that goes into qualifying any company that will be working on your home, these 7 questions are a good starting point to make sure that you're protecting your most valued investment.
Want more information on the right things to ask when qualifying a window replacement company? Our 25-item checklist written by the experts will take you step-by-step through the pre-purchase process to make sure you have all your bases covered.